Complete Absence Management Software Solutions
Keeping track of absences can be tricky. Managing holiday requests, balancing your business' labour requirements and keeping on top of absenteeism is a challenge you can do without. Managers can so easily be bogged down with basic administrative tasks when they should be managing your business' productivity instead.
The Focus Time & Attendance system offers solutions for streamlining absence management to keep you in control, helping you notice trends and be responsive to low resourcing issues so you can take action when you need to.
Seamless HR System Integration
Our software interfaces with several of the most popular HR packages, including Iris Cascade HR, Sage HR (formally known as Cake HR), XCD HR and Breathe HR. Should you need an integration with a different human resources software package then our team can develop this for you.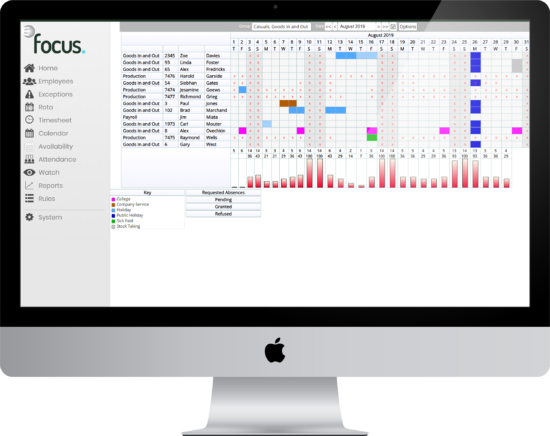 Empower Your Team with Self Service
Employees can directly request absences through the Focus self-service employee portal and mobile app where they can see their own holiday balances, booked and refused requests and team availability. Requests need not be limited to holidays, they don't even need to be absences – you might permit the booking of parental leave or on-call bonuses. Flexibility is built-in.
Testimonials
We use Focus to log on/off times for all staff, check on lateness, use it to calculate overtime hours, record absence (also provides Bradford Factor scores), authorise holidays, standby logging, fire report. Basically, without Focus we would be struggling to record all of the above and it would be difficult for us to run our business. Focus takes care of all of these vital administration and HR functions and we can then concentrate on our core business.

"The calendar view for employees is a great way of keeping track of employee's time off visually."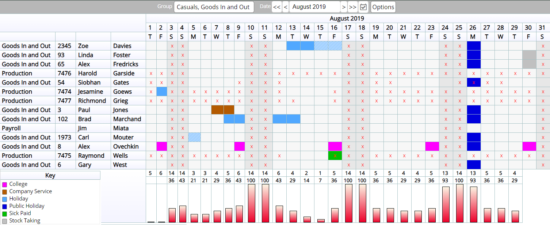 Absence Management Software – Simplified
Managers can view, approve and deny absence requests with ease. View full team availability and record absences directly into the system.
Absences only need to be recorded once with full auditing and are fully visible through timesheets, calendars, rota planning, reporting and attendance features. Finally, hours can be imported directly into payroll eliminating manual entry and error.
Focus automatically identifies absence where the employee hasn't attended according to their work schedule. Display real-time attendance on the Focus Attendance Board and identify low resourcing across your workstreams.
Key Benefits
Resource Availability View
Bradford Factor Reporting
Absence Management Software FAQs
What Is Absence Management Software?
Absence software enables companies to track, report on and manage staff absence. It helps managers identify absence trends, providing them with the information they need to communicate with the employees concerned. Absence software is a vital part of a modern company's toolkit and can be used for office-based and remote staff members.
What is Bradford Factor Reporting?
The Bradford Factor, also known as Bradford Formula, the Bradford Score and the Bradford Index, was developed by the Bradford University School of Management in the 1980s. It is used by businesses and government bodies around the world to assess an employee's absence record. It applies a weighted score to all types of absence types (e.g. dental appointments, sick leave, childcare issues). Employers set the scores for each type of absence based on how heavily it impacts their business. Managers within the company can then use the reporting tools to monitor employees triggering high scores.
As a stand-alone tool, the Bradford Index has limited scope. Most businesses use the formula as an early warning system to open up communications with employees flagged by the reporting.
Why Is Employee Absence Monitoring and Reporting Important?
Employee absence tracking is vitally important for businesses of all sizes and in all industries as it helps maintain productivity levels and flags issues with staff morale or burnout. Real-time absence information and reporting enable managers to reallocate resources and improve business processes in areas where absence problems may be impacting performance.
Reporting may also highlight individuals or departments where absences are spiking. This could be a sign of unhappy employees, in which case the necessary supportive actions can be undertaken.
What are the Different Types of Absence?
To get the most from absence management software, it helps to understand the different types of absence. For more details on this topic, please refer to our blog post 'How to Manage Unplanned Absence in the Workplace.'
Does Focus Absence Management Software Integrate with Payroll Systems?
Yes, the Focus absence management software, as with all elements of our time management software, integrates easily with all major Payroll systems. If you have any questions on setting up and managing the integration, our team will be happy to assist.