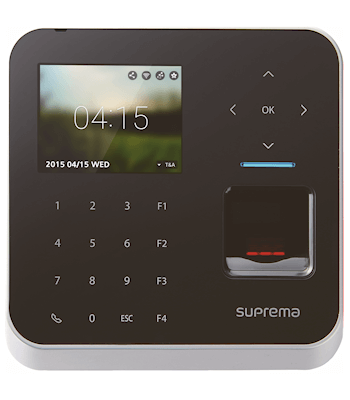 Biometric Fingerprint Terminals
Fingerprint clocking in machines are now amongst the best-established form of biometric clocking in machines available with hundreds of variants in the marketplace. Fingerprint technology has matured and become more reliable and more sophisticated but it's still difficult to identify which terminal is a good balance of value for money and performance.
That's where we can help since we've already selected and tested the terminals we consider to be the best. We provide hardware support services for all of our terminals so we're not interested in supplying inferior quality products as it would cost us time, money and our reputation in the long run.
Suprema inc is our main biometric fingerprint reader supplier and we've chosen them because they have an outstanding range of award-winning terminals. Suprema fingerprint readers combine exceptionally low rates of false-positive fingerprint verification, acceptance of difficult to read fingers, which other terminals struggle to accept, alongside super-fast verification speeds. These features make Suprema products a perfect solution for incorporation into a time and attendance solution.
How Does a Fingerprint Clock In Machine Work?
A biometric fingerprint clocking in machine relies upon an electronic sensor to capture a digital image of the
person's fingerprint pattern.
The terminal converts the fingerprint image into a numeric code which
represents relative positions of key features in the fingerprint. These numbers are stored for each
user in the clocking terminal and cannot be used to regenerate a fingerprint image.
The clocking terminal may show an image of the user's fingerprint at the time of scanning
(depending on the model). This is merely temporarily displayed to provide feedback about the
quality of the scan just completed.
Neither the fingerprint clocking terminal nor the associated management software package ever directly stores images of a user's fingerprint.
Fingerprint biometric clocking terminals can be configured to use either the identification or verification
method for clocking
Key Benefits
Instant fingerprint matching and authentication. Easily eliminate buddy punching issues
Huge capacities for fingerprint and clocking record storage
IP65 & IP67 casing options for installation in external, dusty and wet environments
Access control and time and attendance functionality support
Securely encrypted biometric clocking data
Touch screen options and exclusive activity code capture available
Integrated RFID reader as standard
Sleek, attractive styling suitable for high-end environments
Why Choose a Suprema Fingerprint Clocking in Machine
Suprema fingerprint readers use market-leading algorithms for matching fingerprints to templates
and have a very high degree of accuracy. They are also better than many other fingerprint terminals
available at recognising the small percentage of the population who have fingerprints that are
indistinct due to generic characteristics, wear and manual work. It is normal to enrol two fingers for
each employee to cater for situations where there has been an injury to the primary finger.
There will be the occasional employee whose fingerprint cannot be registered on the clocking terminal and will need to use an alternative clocking method. Fingerprints will be affected by cuts and abrasions so fingerprint readers are generally unsuitable for heavy industry or food preparation areas but can be ideal for warm, dry, clean environments.
Facial Recognition Clocking Terminals
When fingerprint terminals aren't a suitable option then facial recognition clocking may be the perfect solution.  Facial recognition does not require a user to have any contact with the terminal meaning it is an extremely hygienic and inclusive technology.
Click here to find out more about our facial recognition solutions or contact our team who will be happy to answer any questions you may have.
ZK Tech is our preferred supplier for budget fingerprint clocking in machines which don't compromise on performance. The ZK Silk delivers great performance and can be used with both dry and wet fingers.
Also incorporating capacity for up to 3,000 fingers with an integrated EM RFID reader, the ZK Silk includes features for capturing work codes making it excellent for time and attendance applications.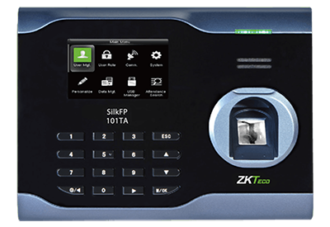 Explaining Biometrics to Employees
Employees often harbour concerns when faced with a new biometric clocking in system so we've put together a document answering many of the common questions that your workforce may have. The Explaining Biometrics to Employees PDF provides an overview of how biometric clocking in systems work, including the hand reader, fingerprint readers and the face readers that we supply. It summarises the advantages and disadvantages of implementing a biometric system.
The document is designed to dispel any myths surrounding biometric clocking terminals and provide your business with information for use during your Biometric Time and Attendance system roll-out.
Click here to download the Explaining Biometrics to Employees PDF