Responding to the global pandemic, Suprema has introduced a thermographic camera with 19,200 pixels per frame capable of quickly and accurately measuring skin temperature. Specifically designed to be mounted to the top of the FaceStation 2 terminal, the FaceStation 2 Thermal Camera combines the powerful face recognition technology with identification of a high skin temperature.
The FaceStation 2 includes both time and attendance and access control functionality, so there are various ways to deploy the thermal camera features.
Key Benefits
Ideal for COVID-secure workplace measures
Identify fever via skin temperature measurement
Prevent building access when temperature exceeds threshold
Report on temperature data through Focus Enterprise
Quick and precise temperature measurement
Temperature displayed in Celsius and Fahrenheit
Retrofit to FaceStation 2 terminals
Optionally sound alarm plus audio and visual alerts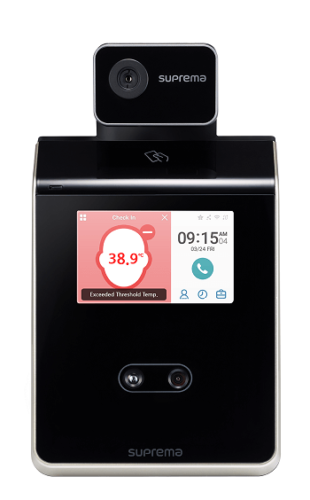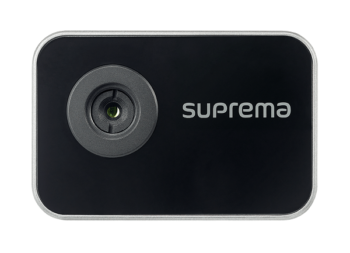 Increased Security and Safety
When used for access control (controlling the electronic locks on a door or turnstile), the FaceStation 2 can prevent access in response to a high skin temperature being detected, optionally sound an alarm and indicate the temperature on the device screen.
In a time and attendance application, any employee recording a high temperature would be prevented from successfully clocking onto their shift.
Reliable Temperature Detection
The Focus Enterprise time and attendance software has been enhanced to report on all temperature event logs. Email alerts advise on all high-temperature incidents, and users can access a full history of temperature logs at any time.
The FaceStation 2 thermal camera enables organisations to implement enhanced COVID-secure defence measures to protect their business and workforce.
Simple Set-Up
The FaceStation 2 thermal camera can be easily connected to the FaceStation 2 terminal via a supplied USB cable. It is also supplied with a bracket that allows it to be conveniently added to new or existing installs.
Technical Specification
Temperature range: 30°C to 45°C (86°F to 113°F)
Temperature accuracy: ≤±0.5°C (0.9°F) / ±0.3°C (0.5°F)
Camera dimensions: 77 mm x 46 mm x 22.2 mm
Camera +bracket dimensions: 139.84 mm x 163.8 mm x 22.8 mm
Maximum resolution: 120 × 160
Field of view: 2° × 50°(H × V)
Noise equivalent temperature difference (NETD): ≤ 50 mK (@25°C, F# = 1.0)
Components: a thermal camera with bracket and USB cable, 6 screws (does not include FaceStation 2)