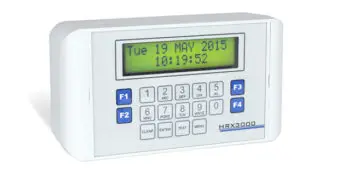 HRX RFID Proximity Readers
Cost-Effective Reliability
The enduring popularity of proximity readers is due to their consistent reliability, ease of use and acceptance by any workforce wary of biometric technology. For businesses that do not experience problems with buddy clocking, proximity card readers remain an excellent choice.
Each employee is supplied with a unique proximity key fob or credit card-sized proximity card that they present to the terminal or reader. Proximity-based technology is a cost-effective solution, particularly for access control systems where large numbers of door locks or turnstiles require operation.
Key Benefits
Multiple card reader options
Keypad options to record breaks and job codes
Automate fire muster reporting
Quick contactless clocking
TCP/IP network connectivity
Access control of doors and turnstiles
Clear indication of date and time
Control factory shift bells
Why Choose Proximity Readers
Robust and Reliable Design and Build
All our terminals incorporate a proximity (RFID) reader that can read proximity cards and keyfobs. This offers distinct reliability advantages over magnetic stripe and barcode readers because proximity is a contactless technology meaning there is no wear on the cards or on the reader.
The design of the terminals is simple and unobtrusive using a tough ABS plastic case allowing the HRX proximity card reader to fit into many different environments. There is even an option for a weatherproof IP rated HRX terminal for mounting externally.
Clock Card Terminal Options
The table below compares the features of each HRX proximity card reader. The features are then explained in greater detail underneath.
Flexible Modes of Operation
Every HRX proximity card reader can operate in two modes of operation: intelligent and non-intelligent modes.
The intelligent mode consists of one HRX being defined as a Master with other terminals on the same network being defined as Slaves.
The Master terminal handles all communication with the software as well as validating and recording all clocking transactions made on any terminal networked together. The Master terminal stores employee names and badge numbers which it uses for display purposes and it keeps a log of each employee's in/out status. The in/out status is used by the terminal when printing a fire alarm report via a hard-wired printer and also for validation when used for access control. The majority of deployments use HRX proximity card terminals in intelligent mode.
Non-intelligent mode allows HRX terminals to record the clocking transactions simply as card numbers with a date/time stamp. The Focus software will subsequently assign the clocking transactions to the relevant employees. This mode has the advantage that the terminals do not need to communicate with each other and also employee details do not need to be stored in the terminal's memory. Non-intelligent mode configurations are normally used in companies with distributed locations or for organisations that use a lot of temporary workers where it would be impractical to update the clocking terminal with an employee's details before issuing them with a card.
Fire Alarm Functionality
When used in Intelligent mode the HRX3000 and HRX5000 terminals can be configured to automatically generate a fire alarm evacuation report when the fire alarm sounds. Both the 3000 and 5000 models include a set of inputs that can be wired to a fire alarm panel and/or a manually operated push-button. This acts as a trigger to start generating the evaluation report. The HRX3000 model has one connection available for a serial (RS232) printer while the HRX5000 has two connections.
We normally supply a specific serial laser printer that we know to be compatible and reliable. On occasion, we have also connected an HRX to a dedicated TCP/IP network printer via a pair of RS232 to Network converters (creating an Ethernet tunnel).
It is also common for customers to request a UPS to power both the printer and the HRX terminal. This allows the fire alarm report to be generated during a mains power outage.
Power Supply
Each HRX proximity reader is supplied with an in-line regulated mains transformer supplying 9V DC. The transformer has screw holes to enable it to be fixed to a wall if necessary. The transformer has a standard UK 3-pin mains plug, however, this can be removed for connection to a fused spur if required.
The HRX5000 proximity reader can optionally be powered by a separate 12V boxed power supply incorporating a rechargeable 7Ah lead-acid battery. This will act as a UPS to the terminal during a power outage. Suitable boxed power supplies are available from Egress Systems and are normally held in stock.
Access Control Functionality
The HRX5000 includes functionality to provide access control of up to two doors, barriers or turnstiles. Up to two separate remote proximity card readers can be connected. There are two separate relays available to control the power to a door lock or to trigger a barrier or turnstile.
The HRX5000 does not directly supply power to door locks. This must be supplied from a suitable rated power supply. The relays in the HRX5000 are used to switch the power to the lock.
Press-to-exit buttons can be connected to provide a timed trigger for each relay. Also, up to two-door sensors can be connected to monitor if a door has been left open over a predefined period of time.
The validation of the access control is configured via the Focus software (Focus Pro & Enterprise only). As a brief explanation, employees are assigned to access groups. The access group will determine which doors all of the members of the group have access to as well as what times they can access those doors and on which days of the week.
Factory Bell Control
The two relays in the HRX5000 can also be used to control factory bells. The Focus software is used to create a table of days, times and durations when each relay is triggered.
Indoor or Outdoor Installation
Every HRX proximity reader can be housed in a waterproof IP-rated enclosure for external installations.