An Additional Clocking In Option
The Focus Wave sticker works in conjunction with the Focus Self Service app using near-field communication. Near-field communication (NFC) is now a common feature on smartphones, tablets, and laptops. It is the technology used to enable contactless payments and data sharing. NFC has a limited communication distance of about 10cm, which creates the security benefit of a small radius.
The Focus Wave is an encrypted NFC tag embedded into a sticker. Employees who have the Focus Self Service app on their NFC-enabled smartphone can use the Focus Wave as a clocking terminal.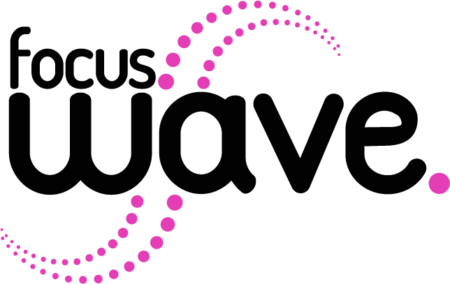 Why Choose Focus Wave NFC Terminals?
In partnership with the Focus Self Service app, the Focus Wave tag id (UID) is added as a connection to give employees an additional option for clocking in. The self-service clocking-in feature can still be an option separated in self-service profiles. This means that employees can have access to one or the other, or both.
The Focus Wave NFC terminals are recommended for use in the following settings:
Remote hard to access sites, or areas of the business with low infrastructure or security
Business locations with no internet connection or mobile signal
Guard patrol clocking points or other 'I was here' activity
Domestic clocking in points for patients or customers that are visited at home
The Focus Wave NFC Tag is both easy to install sticker and cost-effective and creates the opportunity for flexible clocking in locations.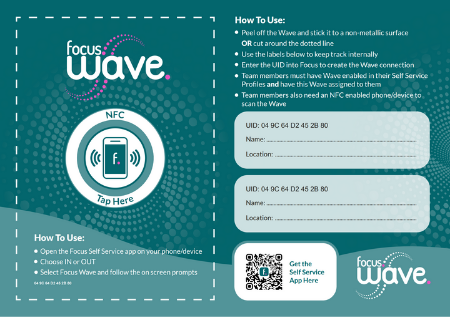 Focus Wave Features
The Focus Wave has an overall size of A5 (21cm x 14.8cm). The removable left-hand section is the sticker part which is approximately 9cm x 12.5cm. An NFC tag is embedded in the centre of the sticker section, indicated by the 'tap here' icon.
The sticker section with the NFC tag has instructions for how employees should use the Focus Wave. The right-hand section includes information for the Focus users to explain set up options. Detailed setup instructions are supplied with the Focus Wave package when purchased.
The Focus Wave includes UID labels that have been included as a convenience and don't have to be used. If the business plans to install multiple Focus Waves, the UID can be used for record-keeping to track the location points of each Tag.
Positioning the Focus Wave
Where you place the NFC terminal is entirely up to you. It can be peeled off and stuck straight onto a surface using the self-adhesive backing. Alternatively, cut around the NFC reader and position it as required.
Things to consider when positioning the NFC terminal are:
Can all users easily access it?
Is it in a place that prevents minimum disruption to others?
Will it get damaged by activities close by?
Important: Do not position on metallic surfaces. This stops the Focus Wave Reader from working.
What is Needed to Use Focus Wave?
Focus Self Service app installed on your phone/device – this can be downloaded from
either the Apple App Store or the Google Play Store.
An NFC (Near Field Communication) enabled phone/device.
iOS – all models from iPhones 7 onwards can read NFC tags. NFC is automatically enabled.
Android – Navigate to Settings>Connected devices>Connection preferences. If NFC is
showing in the list, tap on it to enable it.