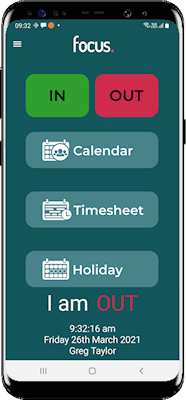 Employee Self Service App
The Focus Employee Self Service App and Web Portal enables employees to clock in from their PC, smartphone or tablet. Staff can access their personal timesheet, calendar and request holidays and other absences. Available as a modular add-on to the Focus Time & Attendance system.
Enable your employees to view their time worked and identify their scheduled roster. Empower supervisors to view the geographic locations of an employee web clocking using the integrated Google Maps feature in Focus Core, identifying who's currently clocked in and out within a team or approve absences.
All features are controlled using PIN and password access and configuration options ensuring only those employees who need access to data have it.
Testimonials
"The web module is a great addition from the staff's point of view as it clearly shows previous clocking and hourly totals they've worked, plus a summary of their calendar from which they can apply for holidays."
Key Benefits
Request absences from your mobile phone
Capture GPS clocking location
Focus Employee Self Service App Features
Web Clocking
Enable staff to clock on/off from their PC, smartphone or tablet whether at home, on-site or working abroad. Capture their clocking location using GPS technology – fantastic for verifying employee attendance.  Are your employees where they're supposed to be at the time they were supposed to be there?  Focus will ensure you know.
The Focus Self Service employee app is available on the Google Play and Apple stores for Android and iOS mobile devices.
Use Focus Self Service alongside your clocking terminals or as an alternative method of clocking and time recording.
Timesheet
View clockings and time accrued at each rate on the Timesheet page. Browse current timesheets and those from previous weeks, months or years. Focus employee self service (ess) encourages your employees to meet time targets by giving them the information in an easy to access and digestible format via the app.
Access Focus Self Service via the web portal version and a wealth of additional information becomes available.  View detailed timesheet information, including multiple daily clockings, time accrued across multiple rates, cost centres subtotals and bonuses, overtime, absences and more.  Your organisation can optionally enable employees to edit their own timesheets where desired.
Geolocation
View the geographic location of the last web clocking in Focus Core and in the Self Service employee web portal. Use Google maps features to zoom in and out of the map view and swap to satellite picture imagery of the location. All embedded within the webpage.

Calendar
Absence & Holiday Requests
Allow your employees to view their own calendar which includes work schedule and roster assignment, as well as pending and booked absences. Quickly and easily request holidays and other permitted absences directly from the app and see the status of pending holiday requests.
Availability
Optionally enable your employees to view the availability of other members of the groups they belong to via the web portal. Ideal for determining whether they are likely to be granted a holiday if others are already booked off. Schedule detail is also available, useful for employees who may wish to negotiate a shift-swap with a colleague or supervisors planning likewise.
Names of other employees can be either shown or hidden and absence types deemed confidential by the Focus Administrator will not be shown.
Holiday Requests
Book holiday requests and other absences directly on the availability screen to maximise the effectiveness of having your colleagues' information available.