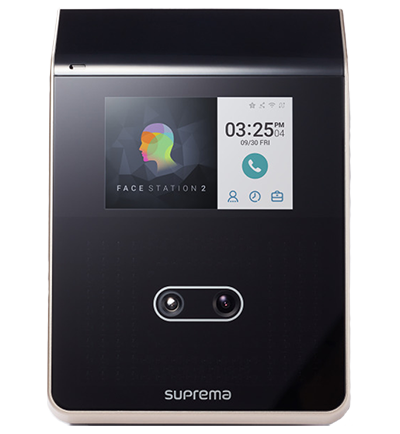 Face Recognition Clocking in Machines
Face recognition terminals are now a popular alternative to fingerprint and hand geometry based biometric clocking. Contactless clocking and fast accurate recognition speeds are two of the core reasons why businesses are increasingly turning to facial recognition for time and attendance. Large numbers of employees can quickly be processed without the need to enter any information directly into the terminal when clocking. This makes face recognition ideal for organisations with peak throughput at shift changeover.
How Do Face Recognition Clocking in Systems Work
A face recognition clocking in machine invariably uses the identification method where no touching of the machine is required at all for clocking. When a face is presented in front of the terminal the terminal will attempt to match that face to its stored face templates. Facial recognition clocking terminals record the relative positions of the core features of your face when creating the template for storage.
Facial recognition terminals need to be sited out of direct sunlight as this can affect their ability to 'see' a face in front of them (just as we struggle to see when a light is shining in our eyes). Employees may also have to remove their glasses when registering on the clocking terminal and clocking. It may be possible to register on a face recognition clocking in machine whilst wearing glasses but the face reader would be unlikely to recognise an employee if they changed their glasses.
Hygienic Time and Attendance
Face recognition clocking in systems avoid problems related to dust, sweat and grease on dirty hands making it a hygienic and inclusive technology that can be used by all workers. Like all biometric terminals, face recognition terminals eliminate buddy punching issues.
We offer two outstanding facial recognition terminals from Suprema: the Face Lite and the FaceStation 2. Both offer wide reading angles to cope with people of various heights and an optional tilt bracket is available for the FaceStation 2 to allow wheelchair users to use the same terminal as people standing up. Suprema terminals allow up to five images to be captured of each employee for comparison. This means that employees can change their look each day with no adverse effects to clocking. Changes to hair length, beard growth, piercing, headwear, glasses etc. are easily be accommodated.
Reliable Access Control
Facial recognition is also suitable for internal access control applications and can cope with low light conditions due to improved operating luminance or infrared face detection.
Key Benefits
Instant facial recognition and authentication
High capacities for face and clocking record storage
Suitable for internal installations
Access control and time & attendance functionality support
Securely encrypted biometric data
Integrated RFID reader as standard
Explaining Biometrics to Employees
Employees often harbour concerns when faced with a new Biometric Clocking system so we've put together a document answering many of the common questions that your workforce may have.
The Explaining Biometrics to Employees PDF provides an overview of how biometric clocking terminals work, including the hand reader, fingerprint readers and the face readers that we supply.  It summarises the advantages and disadvantages of implementing a biometric clocking system.
The document is designed to dispel any myths surrounding biometric clocking terminals and provide your business with information for use during your Biometric Time & Attendance system roll-out.
Click here to download the Explaining Biometrics to Employees PDF