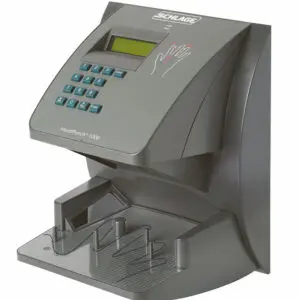 HandPunch Hand Scanners
The HandPunch 1000 & HandPunch 3000 biometric hand readers are manufactured by Ingersol Rand. They have sold in large numbers throughout the world, including major UK high street retail chains, hotels, factories, building contractor sites and offices.
Reliable Biometric Clocking Technology
Because the HandPunch measures the shape and height of the hand, rather than scanning finger or palm prints, the reader can cope with dirty hands, cuts and abrasions and even plasters on fingers. This means the HandPunch can be used as an access control and time attendance solution in environments where other biometric clocking machines may struggle to perform consistently.
There are also facilities to allow people with damaged hands or missing fingers to use the HandPunch ensuring that it's a suitable device for your entire workforce.
HandPunch Biometric Hand Reader Operation
The HandPunch clocking machine uses a two-stage process to clock employees in/out:
1. Firstly an employee taps in an individual PIN number (between 2 and 11 digits) that locates their hand template in the device
2. Then the employee places their hand on the plate to verify their identity.
The entire process of clocking in/out can easily be done in 3 to 6 seconds. Hand verification actually takes less than one second making it a highly efficient access control solution.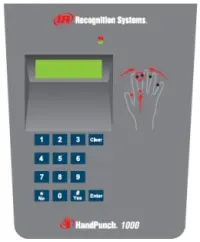 Managing Employees on a HandPunch Clocking Machine
Responsible employees should be assigned as supervisors to manage employees on the biometric hand reader. A supervisor can then access the menu to enrol new employees or remove old employees.
Using the Focus time and attendance software, employee and supervisor hand templates can be read from a HandPunch and saved to the database. These templates can then be sent to a different HandPunch clocking terminal if required.
Memory Capacity
The HandPunch 1000 model is available in three different employee memory capacities: 50, 100 and 512 users. The 50 and 100 employee versions can be upgraded when required by purchasing an upgrade code that is typed into the unit.
The HandPunch 3000 model is available as a 512 or 9,728 user capacity.
Built-in battery backed-up memory can store over 5000 clocking transactions.

Communication
The standard method of communication with the host PC or server is RS232 (serial) for the HandPunch 1000 and the HandPunch 3000 but the HandPunch 3000E includes an in-built ethernet card.
A cheaper alternative, however, is to purchase an inexpensive RS232-Network converter to allow the hand reader to connect to a TCP/IP network. Egress Systems are happy to advise, supply and configure a suitable converter for you on request and this can be located inside the HandPunch casing if required.
Simple Installation
The HandPunch is fitted to the wall by means of a back-plate. The biometric hand reader is hooked onto the bottom of the back-plate and locked in place using a key. Normally there will only be two cables entering the hand reader: power and comm's. Both connections are made with plug-in connector blocks so moving or replacing the HandPunch can be done quickly and without any tools.
Flexible Power Supply Options
The HandPunch can be powered from a DC supply between 12V and 24V. A 12V DC mains plug transformer is provided with each clocking machine.
The HandPunch can optionally be powered by a separate 12V DC boxed power supply incorporating a rechargeable 7Ah lead-acid battery. This will act as a UPS to the clocking machine during a power outage. The boxed power supply is often also used to power and house the RS232-Network converter enabling a tidy and secure installation. Suitable boxed power supplies are available from Egress Systems and are normally held in stock.
Location
Because the hand reader uses optical technology there are some considerations to be made when considering its location. The HandPunch should not be placed in an area where it is exposed to direct sunlight. This could affect the unit's ability to reliably identify employee's hands.
The HandPunch has a minimum operating temperature of 5 degrees Celsius. So the HandPunch is not suitable for outdoor or cold environments unless a heating device can be installed to raise the local ambient temperature.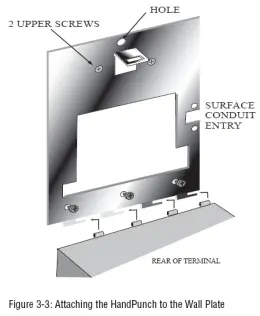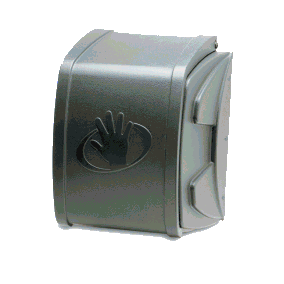 Outdoor Installation
In the event that outdoor installation of a HandPunch is required then a Hurricane Cover can be purchased which will keep the terminal dry when not in use. A shelter is still required over the HandPunch to ensure protection when the Hurricane Cover is open for clocking.
Hassle-Free Maintenance
The HandPunch benefits from regular cleaning. Cleaning should be done using an alcohol-free wipe or a clean lint-free cloth. Window/glass cleaner can be used but do not spray onto the hand reader directly – instead spray onto a cloth.
Testimonials
"Originally both of our sites were using biometric fingerprint readers. We found these to be very temperamental, leaving us with a lot of missing or incorrect information and several employees were unable to use for varying reasons. We decided to go with the handpunch to see if this could be eradicated. We were not disappointed, there is not one employee that is unable to use this terminal and therefore we are getting good and accurate reports."