Cloud Based Time and Attendance Solutions
Recognised as the most convenient and flexible option when working across multiple locations, our cloud based time and attendance software provides an impressive list of functionality combined with mobility and innovative employee tracking features.
The Focus.net cloud based platform, accessible from any web browser, can be used with our full range of biometric and proximity clocking terminals and is available with or without Focus Employee Self Service, the powerful and easy to use employee web clocking application.
Say goodbye to your reliance on in-house servers and IT infrastructure. Our time attendance systems provide the security and peace of mind of in-built backup and disaster recovery services. Our customers also enjoy the benefits of managed anti-virus and regular software upgrades, ensuring that your data is safe and secure with minimal effort.
Focus.net – The Flexible Time and Attendance System You Can Access Anywhere
Focus.net provides a modern, web based time attendance solution for age-old business problems;
Keeping track of employee attendance
Managing absence requests
Monitoring absenteeism
Accurately recording hours for payroll
All of these functions, and many more, are managed through a user-friendly web browser platform. Focus.net has been built on the back of decades of in-depth industry knowledge, retaining the flexible shift rules and customisable features at the heart of the Focus time and attendance applications.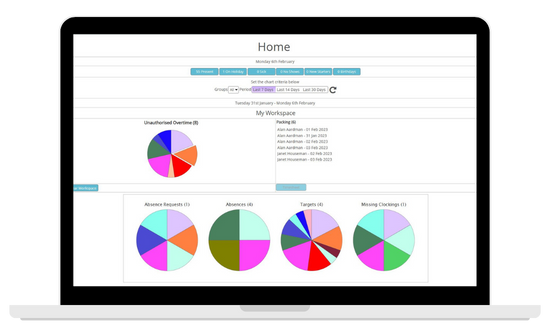 Keep an eye on current employee attendance and actionable events with the colourful dashboard designed to highlight tasks clearly for line managers and administrators.
Fully editable timesheets, employee calendars and rotas are supported with a suite of reports for data analysis and export to payroll. Innovative fire muster reporting options, attendance display board and mobile app clocking with geofencing control complete an impressive, feature-rich cloud solution.

Focus.net Key Features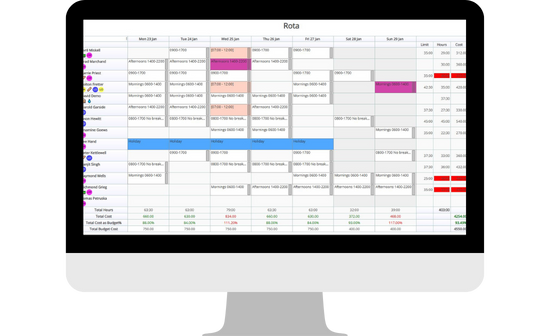 Employee Skills
Skills ensure that you have the right mix of employees with the correct set of skills working on a shift. For example, your evening warehouse shift may need a van driver, a forklift truck operator and a first aider. Skills and Skill Sets (a combination of 2 or more skills) are the way to manage these requirements in Focus.net.
Skills can be created and assigned to both employees and shifts. When building your rota, skill requirements can be incorporated to ensure that the right number of employees working a specific shift have the right types of skills and qualifications to carry out their duties effectively and safely.
Drafting Bench
The Drafting Bench is a highly effective visual organising tool that is a new feature of Focus.net, created to support the planning and building of your Rotas. It is positioned beneath the rota and is visible by default; however, should you wish to hide it, this can be actioned through the options menu.
The Drafting Bench concept is simple. Before allocating shifts to your employees, add your staffing requirements to the Drafting Bench. Using the drag-and-drop feature, simply assign the shifts to the employee's section. As you allocate shifts, the Drafting Bench will update until the staff requirement is met, at which point the requirement will turn paler in colour and be accompanied by a green tick.
Making Shifts Available in the Drafting Bench
Available shifts can be viewed and selected by eligible staff using the Drafting Bench feature via the Focus Self-Service App. Shifts already allocated to the rota will not show as available and cannot be seen or requested by employees.
Cost Centre Allocation
Cost Centres are an important feature of Focus and will be used in many of the day-to-day processes. Cost centres are used to manage and monitor expenditure and can be used to keep track of wage spending, assigning employee time to particular departments, projects or processes.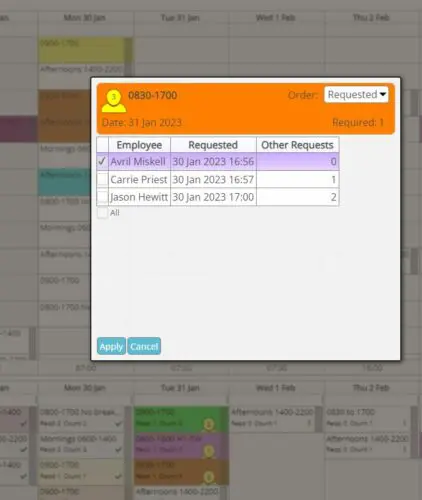 Attendance Statistics and Dashboards
Attendance Board
The Focus Attendance Board provides an accurate picture of current attendance at your organisation. Use the Attendance Board to find out who has clocked in on which shift, who is late or has clocked out early, why an employee is absent or when a shift is scheduled to end. Importantly, you can identify where employees are in a large or multi-site organisation.
A highly configurable reporting tool, the Attendance Board allows you to create specific displays for each site, agency or department.
Configure the Attendance Board to highlight shifts falling below expected attendance levels using the 'Red, Amber, Green' traffic light system. You configure the percentage of attendance each colour represents. Ideal for identifying 'at a glance' where additional resource needs to be called in.
Display up to 14 different pieces of information for each employee, including their actual and expected start times, clocked and scheduled cost centres, absence reason and more.
Configurable Reporting
Through Focus, reporting can be scheduled via email to be sent on specific days and times or on demand. Reports can be saved for easy retrieval and exported into PDF, Excel, RTF and CSV formats.
Focus seamlessly integrates with most leading Payroll packages, allowing data to be easily exported.
Workflows
Workflows are custom reports and alerts that provide leadership with easily accessible summaries that keep them informed and up-to-date. These summaries can include various types of information, such as current holiday balances for different groups, identifying late-clocking employees, or upcoming birthdays. To ensure that the relevant individuals receive the necessary information at the appropriate time, scheduled email notifications are utilised.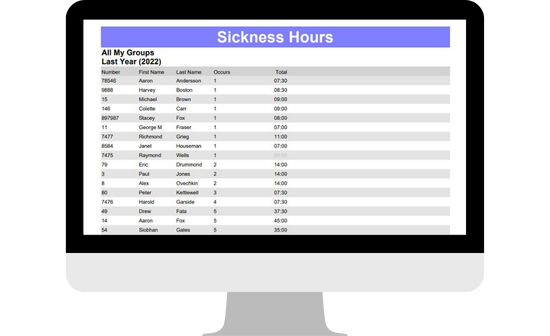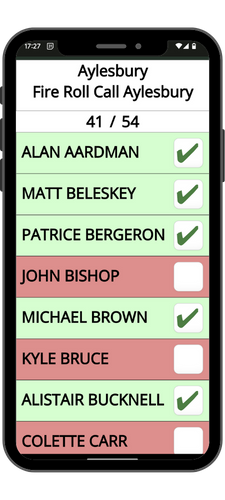 Live Fire Roll Call
Live Fire Roll Call uses real-time data directly from Focus to accurately show employee whereabouts. Employees can be marked as IN as soon as their presence has been logged on site (for example, from their use of Access Controlled doors or turnstile) rather than waiting for them to clock in. From within the Roll Call Monitor, accessible via mobile devices, you can then easily mark staff as present or absent.
Absence Management
Holiday Allowance
There are several areas within Focus where employees' holiday allowance can be viewed or managed, each offering different levels of detail.
Individual holiday entitlement can be viewed from the Employees Dashboard, the Employees Calander or the Employees Absence data.
Team holiday entitlement can be viewed via Reports which provides a detailed breakdown of the entire team and their individual allowances, or via Availability which provides a quick 'snapshot' of all employees' remaining balances.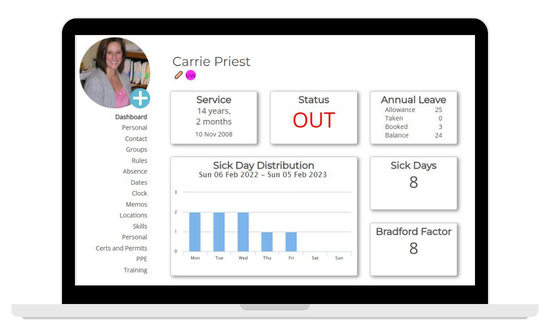 Public Holiday and Work Shutdowns
Public holidays and shutdowns can be managed independently of individuals' personal holiday entitlement by creating separate Leave channels. Once the Personal and Public Leave Channels have been set up these will be displayed separately in all holiday reporting.
Holiday Requests
Allow your employees to view their own calendar, which includes work schedules and roster assignments, as well as pending and booked absences. Quickly and easily request holidays and other permitted absences directly from the self-service app and see the status of pending holiday requests.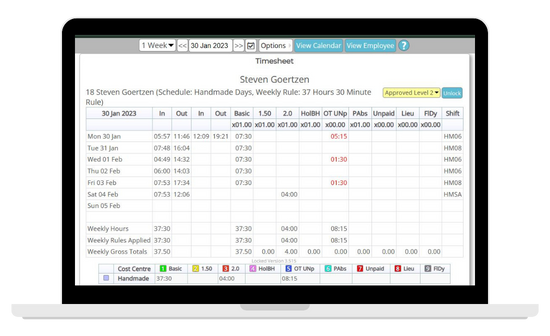 Timesheet Management
View clockings and time accrued at each rate on the Timesheet page. Browse current timesheets and those from previous weeks, months or years. Focus employee self-service encourages your employees to meet time targets by giving them the information in an easy-to-access and digestible format via the app.
Access Focus Self Service via the web portal version, and a wealth of additional information becomes available. View detailed timesheet information, including multiple daily clockings, time accrued across multiple rates, cost centres subtotals and bonuses, overtime, absences and more. Your organisation can optionally enable employees to edit their own timesheets where desired.