How To Create a Healthy Workplace
Society's views of COVID-19 have started to shift as we enter an endemic rather than a pandemic. The disease is no longer a one-time threat that defines our lives. Instead, it is an aspect of everyday life that we must learn to coexist with. Therefore, many feel it is now time to swap their pyjamas for suits, their slippers for shoes, and return to the office.
Research has found that 36% of employees who have the option of hybrid working are now commuting to their workplace two days a week on average. To help employees feel safe and comfortable returning to work, we have collated information on maintaining a happy, hygienic and healthy workplace.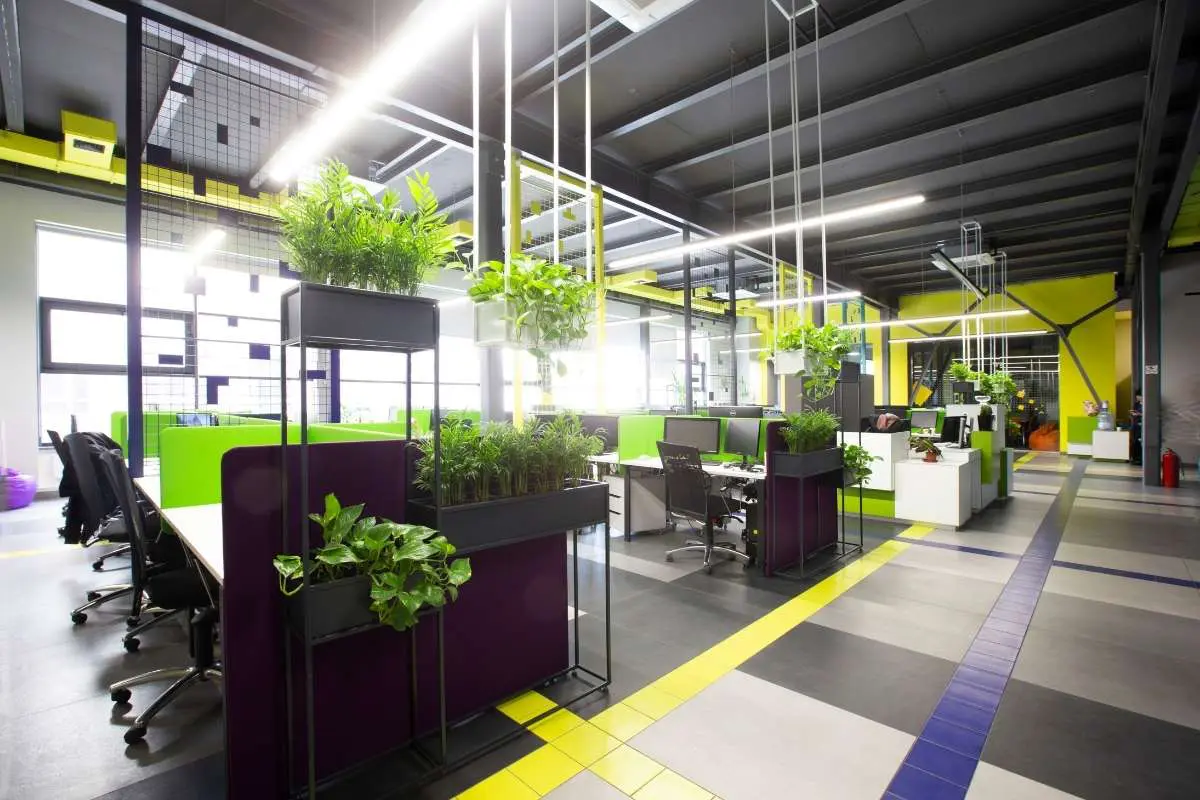 How to Increase Wellbeing in the Workplace
It's evident that COVID-19 has taken a toll on our mental health, with 54% of women and 41% of men reporting a decline in their mental health over the past two years. Therefore, it's important for employers to do all they can to enhance well-being and create an overall healthy workplace. Follow our four steps below to achieve just that.
Re-design Your Space
Offices of the past were usually designed with only practicality and functionality in mind.
However, forward-thinking organisations are re-designing their offices to create exciting and inspiring places to work. To enhance the ambience of your workplace, we recommend creating cosy meeting areas, adding splashes of colour and ensuring all employees have access to natural daylight. A captivating yet practical office space will help employees do a great job, whilst feeling great too.
Improve Air Quality
Employees run the risk of developing occupational allergies triggered by poor air quality, with symptoms ranging from irritated eyes, sinus issues, headaches and even rashes. Employers have a responsibility to keep their workers safe, and the addition of air purifiers around the office can help do just that. Windows should also remain open – weather dependent – to improve ventilation. Plants in the office will also create a healthy workplace and make for a more calming and aesthetically-pleasing environment.
Maintain Team Connections
58% of employees stated that being around their co-workers was what they enjoyed most about returning to the office. To help your employees establish and develop effective professional relationships, start meetings with fun and engaging icebreakers to help colleagues get to know each other and in turn, boost team morale.
Celebrate Success
Projects are exciting at first, but it can become tedious working towards the same goal for long periods of time. A great way to maintain high team morale is to acknowledge and appreciate your team's efforts by offering rewards for particularly good work. A personalised email to celebrate colleagues reaching a milestone or taking an employee out for coffee when they went above and beyond is all it takes to create a healthy workplace, as these small gestures never go unnoticed.
How to Maintain a Tidy Desk
Our workspaces have a significant impact on the way we work; when our desk is disorganised, so are we. For example, scientists at the Princeton University of Neuroscience Institute found that disorganisation can reduce our ability to focus, in turn negatively impacting productivity. Clutter can also have an indirect effect on our psychological well-being. Research found that workplace clutter can lead to increased levels of stress and emotional exhaustion, reducing employees' ability to make decisions.
If you're a naturally-disorganised person, it can be difficult to keep your desk tidy. The good news is that it only takes minor changes to maintain a clean and healthy workplace, so follow our recommendations below.
Easy Storage Solutions
Upcycle shoe boxes, decorative tins and packaging to store miscellaneous items that are cluttering your desk. To tackle larger items, Velcro can be a quick and easy fix. Attach the soft side of the Velcro to your desk item – such as a keyboard – and mount the other on a wall close by. When you need to brainstorm, take notes or draw up plans, you can simply Velcro your keyboard to the wall, giving you plenty of extra desk space.
Bundle Loose Cables & Wires
A pile of tangled cables are not only the ultimate dust collector; they are also a safety hazard. A great cable management solution is Velcro wraps; simply wrap them around loose wires to neatly bundle them together. This way, they are lifted off the floor, making it easier to clean and preventing dust from collecting there in the first place.
Ruthlessly Digitise
The ultimate way to keep your desk tidy from note pads, pens and scrap paper is to capture your work digitally. Rather than taking notes on paper, why not use a digital notepad? This way, all your thoughts are neatly organised and in one place. If you have physical notes you need to digitise, try mobile scanning apps; simply use your phone to capture the notes, and the app will automatically transfer these to your computer. Not only is this process quick and easy, it's also better for the planet and great for maintaining a healthy workplace!
Make a Habit
On average, it takes 66 days for a behaviour to become automatic. Therefore, for the next two months, try and tidy your desk every afternoon before you leave the office to commute home. This habit will not only set you up for a great next day, but it will also ensure all your notes and properly filed or digitised, reducing the risk of anything important going missing.
Maintaining a Healthy Workplace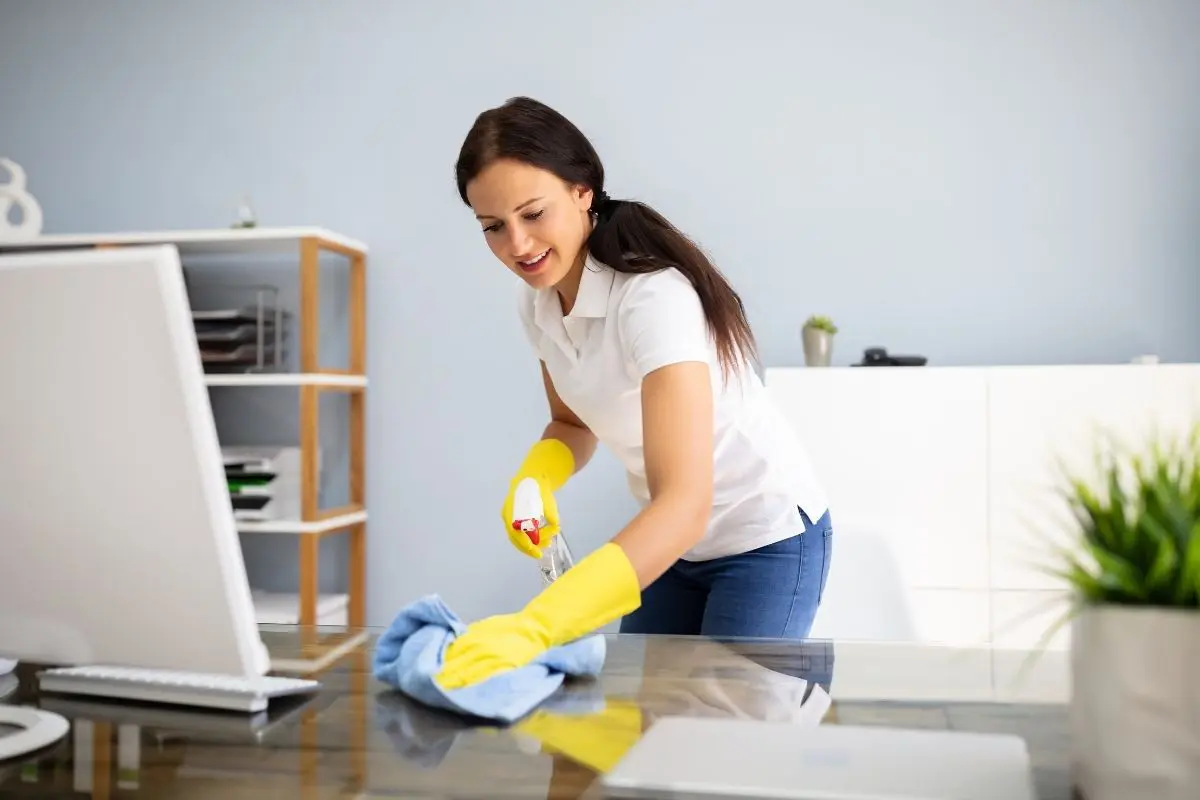 Research has found that 48% of workers returning to the office are looking forward to seeing their colleagues face-to-face, and 41% are excited to get out of the house. With that said, fears of COVID-19 among workers is on the rise. 48% of respondents noted that their greatest concern with returning to the office is exposing family members to COVID-19. Therefore, employers have a responsibility to maintain a hygienic and healthy workspace to help employees feel comfortable being in the physical presence of their colleagues.
Consistent and effective cleaning plays a vital role in limiting the transmission of COVID-19. Cleaning efforts should be focused on surfaces that come into regular human contact, such as light switches, remote controls, electric devices and door handles.
Standard cleaning products such as bleach and detergents are effective against the disease, but only if the surfaces are cleaned regularly. Cleaning should take place twice a day at a minimum, once at the start before employees have arrived and once at the end of the day after they have left.
It can be time consuming and expensive to regularly clean office space; therefore, consider installing face recognition terminals. These contactless entry systems quickly process large numbers of employees without the need to enter information or touch communal surfaces manually. This completely mitigates health risks related to sweat, grease and unclean hands. In reducing the spread of bacteria and germs through this innovative technology, employee sick days will likely drop, enhancing a happy and healthy workplace and collectively saving your organisation thousands of pounds every year.