New Generation Biometric Terminals
Enhanced Biometric Clocking Terminals
Egress Systems have long since been devotees of the Suprema biometric clocking terminals. Suprema has consistently been market leaders in performance with their outstanding fingerprint recognition algorithms and flexibility of clocking options.
Suprema has now upped their game once again with even faster fingerprint recognition and redesigned their terminal range with sleeker looks.
Faster, Sleeker, Better Biometrics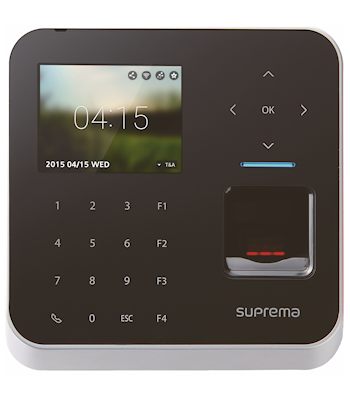 The BioStation fingerprint terminal (one of our best sellers) has been upgraded to become the BioStation 2.  Now with a faster processor and enormous capacity of 1 million fingerprint templates. You'll not need to worry about your business out-growing this device. The BioStation 2 can match and authenticate a presented finger with up to 20,000 registered fingerprint templates per second making it ideal for large organisations.
Secure Access Control Features
Suprema has introduced a new fingerprint terminal made for both Time & Attendance and Access Control installations – the BioStation L2. This intelligent terminal can identify the difference between a live fingerprint and fake fingerprint with Suprema's 'Live Finger Detection' technology.  Slim-line in design with a super-fast quad-core processor and programmable time and attendance function keys.
Accuracy and Error Reduction
There is always one terminal better than the rest and that's the Suprema BioStation A2. Beautiful in its design, it boasts unrivalled fingerprint capture techniques.  The BioStation A2 incorporates a new optical fingerprint sensor which reduces distortion.  The speed of performance is highly impressive too matching 150,000 fingerprint records per second.  That's twenty-five times faster than the BioStation T2 it replaces.  Hiding the technology within is a beautiful design – rose gold colour trim and clean reinforced glass exterior with a touch screen.
Biometric Face Recognition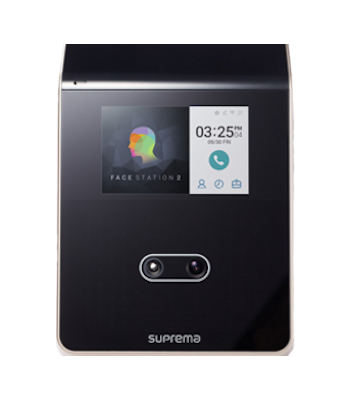 We're seeing face recognition terminals rapidly gain in popularity with our customers and Suprema yet again offers the best on the market.
The FaceStation copes admirably with modern fashions for changing glasses and varying lengths of beard growth by capturing up to 5 face different face images per employee to match against.
Eliminating the need to touch the terminal the FaceStation is ideal for a wide variety of internal environments where dust and dirt make other forms of biometric clocking problematic.
The FaceStation terminal is reliable and fast with customisable function keys and a large touch screen.
Automatic Template Propagation with Focus Enterprise
The Focus Enterprise time and attendance software has been enhanced alongside the integration of the new Suprema terminals. Now we can offer automatic propagation of the biometric fingerprint or face templates – the employees' biometric information registered on the terminal – between terminals designated as being in the same location.
If you have a large factory or warehouse with multiple clocking devices you no longer need to manually transfer the templates around. Within minutes the Focus Enterprise software will do the transfer process for you so your employees can clock anywhere you wish them